Oct 31 2013


Charley's Mom
No surgery for Charley today, he needs a CT scan :(
Tripawds is a user-supported community. Thank you for your support!
Unfortunately, no surgery today for Charley. The surgeon said the cancer lump is the lymph node and that she thinks it goes into deeper structures because it's connected at one end and that area feels hard. She said it could be scar tissue from his amp or more cancer.  A CT scan will show where the cancer is and how much is there.  I guess it's an osteosarcoma met in a lymph node that's not behaving typical???  Whatever it is, I just have a really bad feeling…
If they can even do surgery on Charley it wouldn't be until end of next week. We most likely won't have the radiology report from the CT scan until Monday.  Here's some pictures of Charley wearing his Superman Cancer Warrior costume while we were waiting for the surgeon. Charley was just upset that he hadn't eaten since last night!
MVRC just called and Charley's awake and alert after his CT scan. He's still in the ICU, but here's the picture they sent. Dr. Luther, who did the MRI, will call sometime today. We get to pick Charley up this evening.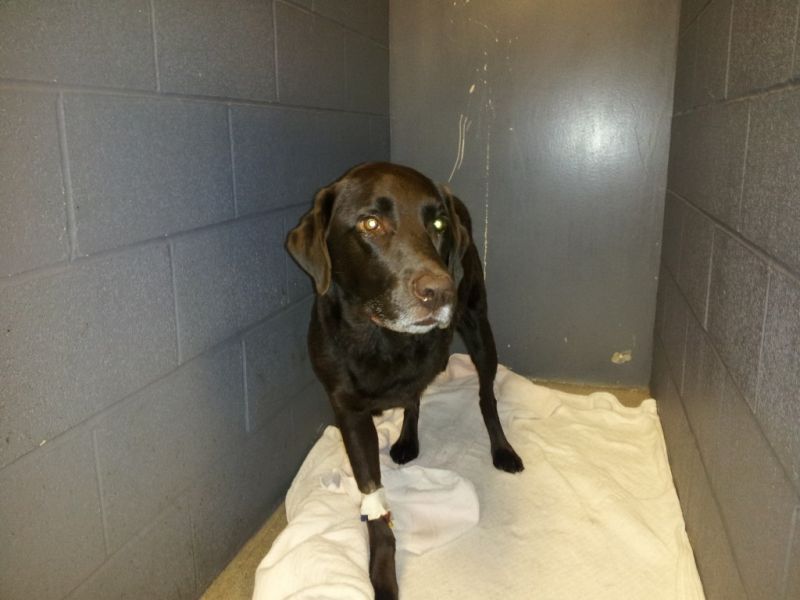 Thank you for all of your prayers, positive thoughts, hugs, and kisses.  It is greatly appreciated and we can't thank you enough for all of your support!
♥  Hugs from me and chocolate Labby kisses from Charley! xoxo  ♥