Oct 01 2014


Charley's Mom
Charley's 47th Month Ampuversary a bit late….and a BIG surprise!!!
Tripawds is a user-supported community. Thank you for your support!
I'm a few days late but Charley's 47th Month Ampuversary was on 9/28, so Happy Belated Ampuversary!!!   YIPPEE!!!  YAY!!!  WOO HOO!!!   HIP "HOP" HOORAY!!!
We are getting very close to celebrating 4 years on 10/28/14!  To put 4 years into perspective in Charley's life, he was 2-1/2 years old when he was diagnosed with Osteosarcoma and he just turned 6-1/2 years old on 9/29.  On his 4th ampuversary, he will have spent 66.6% of his life as a Tripawd fighting cancer and it will be 1 year since having his metastatic OS tumor removed.  Pretty amazing indeed!  I can barely remember him having 4 legs.  This is why Charley is and will always be a Bone Cancer Warrior!  ♥
To honor Charley's AMAZING journey we have a BIG surprise for our boy!  Drum roll please…..
When Charley's OS came back in October 2013, I promised him that I would take him to see the ocean to swim in the waves and run in the sand (living in St. Louis, MO he has never seen the ocean).  My parents, Joe, Charley and I are renting a mini van and driving 13++ hours to Cape San Blas, FL (It's an inlet about 1 hr or so east of Panama City with the gulf on one side and St. Joe Bay on the other).  We rented a 2 bdrm house directly on the beach.  Cape San Blas is completely dog friendly with no beach restrictions…YAY!  Charley will be running in the powder white sand and swimming in the green blue gulf water!  He already has his own float coat to wear!  I hired a photographer to take sunset beach pictures of Charley and all of us too!  Long story short…it's a surprise vacation for Charley!  ♥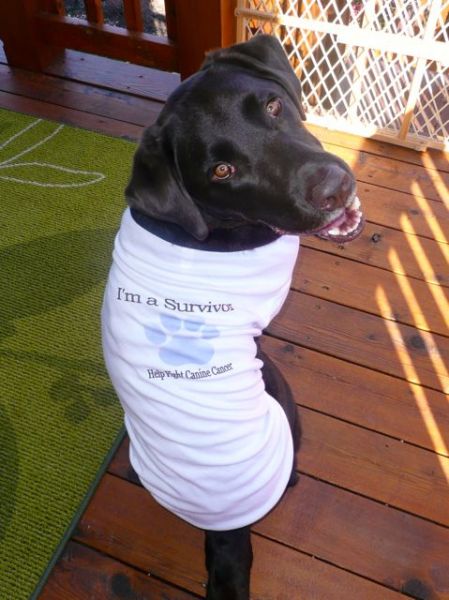 Charley LOVES his cow ears!  Every night around 7pm he will start bugging us for one…..if we don't get him what he wants he will start barking!  Spoiled??  I say so and he deserves to be spoiled rotten!
Sending lots of positive thoughts and prayers to all of you and your furry babies!
Thank you for all of your prayers, positive thoughts, hugs, and kisses.  It is greatly appreciated and we can't thank you enough for all of your support!
♥  Hugs from me and chocolate Labby kisses from Charley!  xoxo  ♥