Mar 30 2014


Charley's Mom
Happy 6th Birthday Charley….so many reasons to celebrate!!!
Tripawds is a user-supported community. Thank you for your support!
Charley celebrated his 6th birthday yesterday, 3-29-14!
Happy Happy Happy 6th Birthday Charley!!!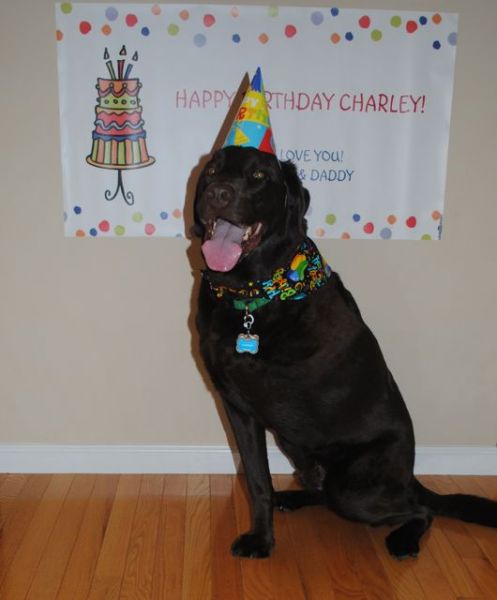 It was a very special birthday for Charley for many reasons!  This was his 4th birthday since being diagnosed with osteosarcoma (he was only 2-1/2 when he was diagnosed)!   It's  been 5 months since Charley was diagnosed with metastatic OS (the tumor was removed from underneath his amputation scar with clean margins)!  Charley finished his 6 rounds of chemo (alternating between Doxorubicin and Lomustine) on 3-12-14!  Charley celebrated his 41st Month Ampuversary on 3-28-14!  As you can see, we have many reasons to celebrate!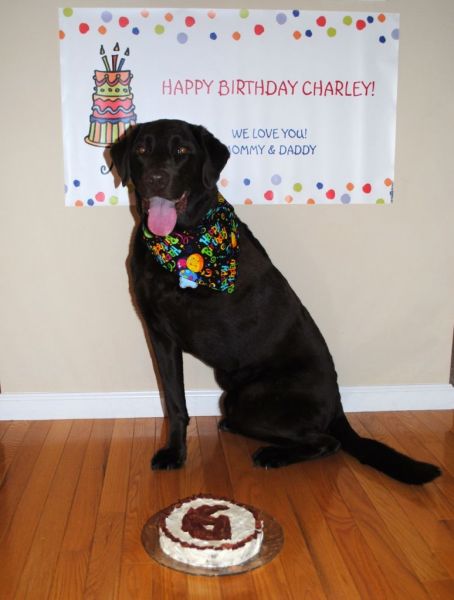 We had a birthday party yesterday for Charley and my dad!  Charley celebrating 6 and my dad celebrating 74 (on April 1).  Both of the birthday boys enjoyed their special birthday meal.  Charley had his famous meat cake and my dad had a filet….and he even shared some of it with his furry grandson, Charley.
The Birthday Boys!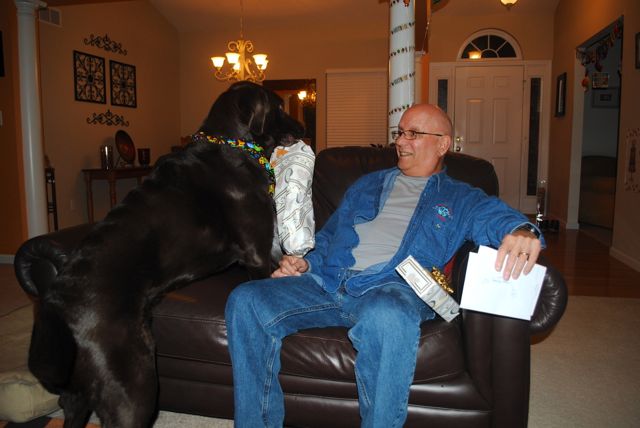 Yummy!!!  I can hardly wait…but I'm being a good boy, mommy!
Meat Cake:  Before….and….after!
Charley's Meat Cake Recipe 2014:
*2 pounds of ground sirloin, 2 eggs, and about 1/2 container of cottage cheese (large size container)
*mix all ingredients together in a large bowl
*place ingredients in an 8″ spring form pan (the pan used for cheesecake) on top of a cookie sheet to catch grease from meat
*flatten ingredients level in the pan
*bake at 375 for 45-60 minutes depending on how well you want it cooked; I cooked it for about 50 minutes
*ice meat cake with softened Philly cream cheese
*decorate with turkey bacon
Charley enjoying some fresh air during his pawty!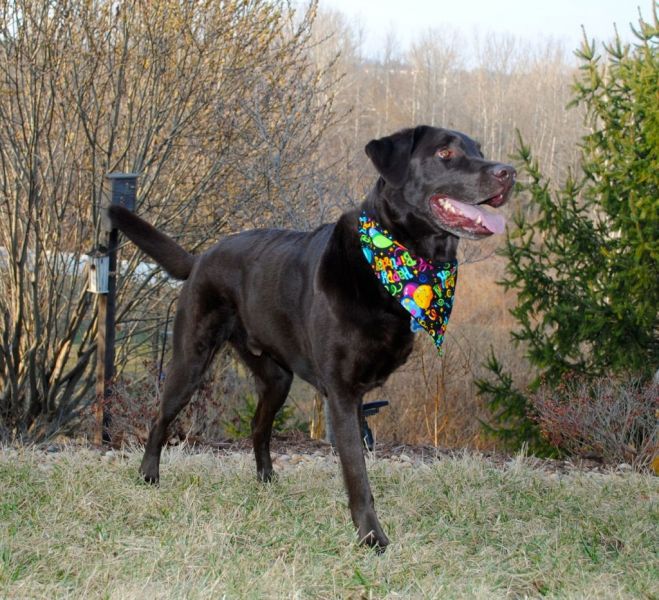 Mommy, did you say I get a Birthday Cookie?
Here I come!  I love cookies!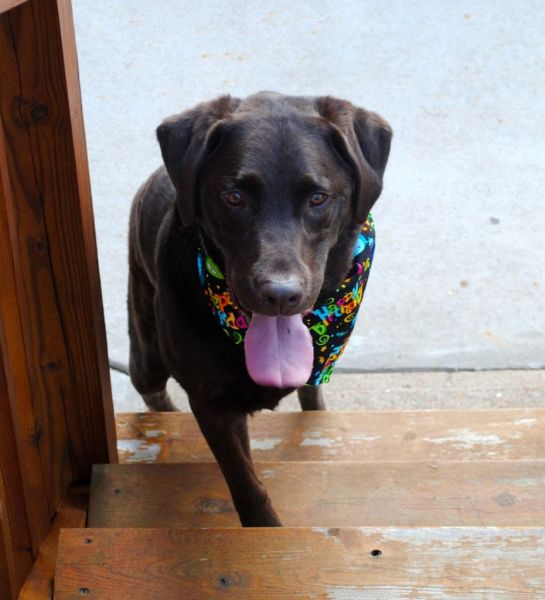 Oh my!!!  A Birthday Cookie Bone from Treats Unleashed!  YUM!
My mommy and me!
Thank you for all of your prayers, positive thoughts, hugs, and kisses.  It is greatly appreciated and we can't thank you enough for all of your support!
♥  Hugs from me and chocolate Labby kisses from Charley!  xoxo  ♥