Jan 12 2014


Charley's Mom
Charley's 1/2 way through chemo….and SNOW!!!
Tripawds is a user-supported community. Thank you for your support!
Charley had his 3rd (of 6) round of chemo, Doxorubicin, on Thursday 1/9 so now he is officially at the 1/2 way mark for chemo!  YAY!!!  Charley started taking Cerenia on Friday to help with any nausea or vomiting since Doxo is really hard on the GI system and so far, so good.
Dr. Buss thought Charley looked great and said he was "perfect" during chemo and he just layed on his side (although he's an anxious maniac mess in the Lobby…go figure)!  Blood work again in 10 days and if his counts are fine for the 3rd time in a row, we won't need anymore CBC's done for his remaining chemos of Lomustine and Doxo!
Charley had so much fun playing on the snow last weekend!  St. Louis got close to 10-12″, so he had lots of snow to play in.  Unfortunately the "Polar Vortex" made the high temps Monday of -2, so his outside time had to be limited to less than 5 minutes or his paws would get too cold and he would hold up a paw.  I think he looks super handsome in his puffer jacket!
Here's a few snow pics of Charley from Sunday!  The golden in the one picture is our neighbor, Louie!  Charley with 3 legs can run circles around Lou!  Charley steals all of Louie's balls from him…when Charley sees their garage door open, he bolts over there goes into their garage roots through their children's large storage container of balls and then helps himself to what he wants.  It's quite embarrassing that Charley has about 10 tennis balls that are Louie's and sweet Lou doesn't mind.  I do take them back, but I swear Charley counts the balls and knows that I returned a few!  LOL!
Charley and our neighbor's golden, Louie!
Charley doing zoomies in the yard!  Notice Louie, the golden, way in the background! 🙂
Charley doesn't seem to be cold!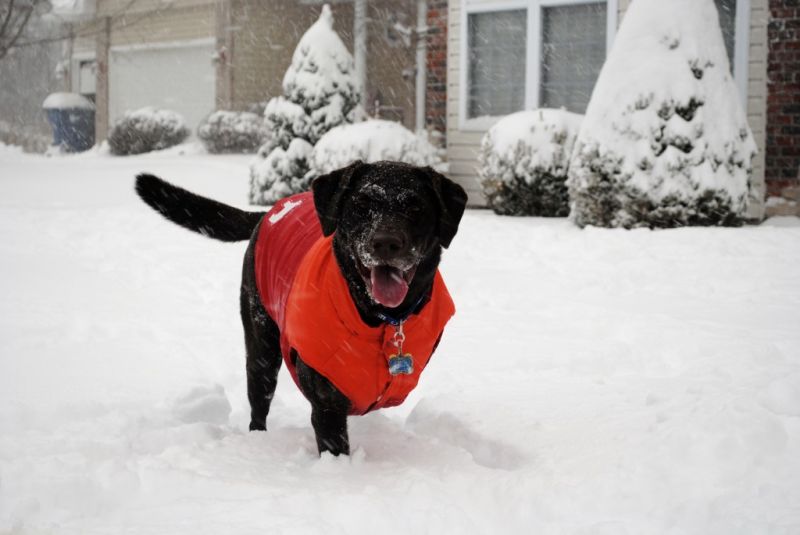 Charley's so happy that he's smiling!
Charley says, "The snow tastes so yummy!"
My FAVORITE snow picture!
The is the last picture because he was getting ready to jump on me to tell me,  "Enough pictures, Mom!"
…and a video!
Charley did a great job cheering on the Colts last weekend and this weekend, but since the Colts lost and won't be advancing to the playoffs he'll have to cheer on Peyton Manning with the Broncos!  Go Broncos!  Charley doesn't have a Broncos jersey, but his Colts jersey is Manning jersey so that's going to have to count!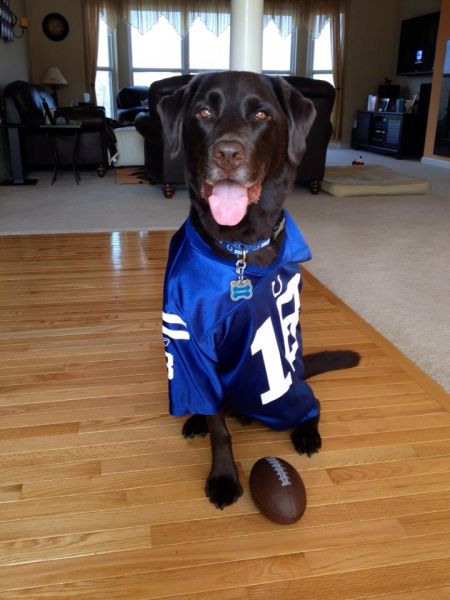 Thank you for all of your prayers, positive thoughts, hugs, and kisses.  It is greatly appreciated and we can't thank you enough for all of your support!
♥  Hugs from me and chocolate Labby kisses from Charley!  xoxo  ♥