Dec 19 2013


Charley's Mom
Charley's done with chemo #2….and a beautiful "chocolate" ornament!
Tripawds is a user-supported community. Thank you for your support!
Charley had his chemo #2, Lomustine, yesterday afternoon and he is doing fine!
Lomustine is an oral chemo that is also referred to as CCNU.  It is commonly used to treat some cancers of the brain (it can cross the blood-brain barrier), lymphoma, mast cell tumors, and non-resectable soft tissue sarcomas.
Because Lomustine has a greater impact on myelosuppression (a condition in which bone marrow activity is decreased, resulting in fewer red blood cells, white blood cells, and platelets).  Charley will start antibiotics (cefpodoxine 200mg) on day 5 (12/23/13) after chemo.  He will take the antibiotics for 7 days to prevent an infection because of low white blood cell count (leukopenia).
Charley will have to have his blood work done between 7-10 days (at nadir) and he will also need a liver profile since Lomustine can impact liver function.
Charley is scheduled for chemo #3 (Doxorubicin) on Thursday 1/9/14….and then we will be at the half way mark!
Charley's Great Dane buddies, Beau and Cayman, and their mommy and daddy (Cindy and Will) sent him a beautiful Christmas ornament.  The ornament is a "chocolate" stained glass paw print that was hand made locally where they live in Maryland.  The ornament is very beautiful!  I love it!!!  It is hanging front and center on the Christmas tree.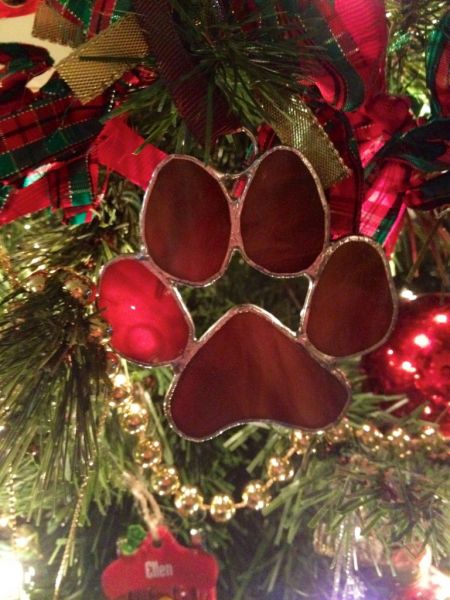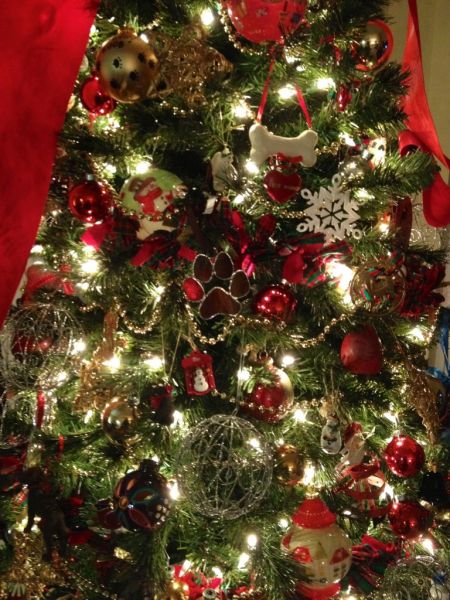 Charley gained almost 5 pounds since his last chemo 3 weeks ago, so we are going to cut back a bit on his food….and he's not going to be happy!   He weighed 69.5 pounds which is still a good weight for him, but he doesn't need to gain any more!  We wanted him to gain a few pounds so we increased his food, but I guess I didn't factor in all the cream cheese he gets to hide all of his supplements in.  I think he's going through a block of Philly cream cheese every 2 weeks, so that's a lot of extra fat grams and calories.
Here's a few pictures from yesterday after we got home from the oncologist.  The long car ride and all of the waiting really wears him out!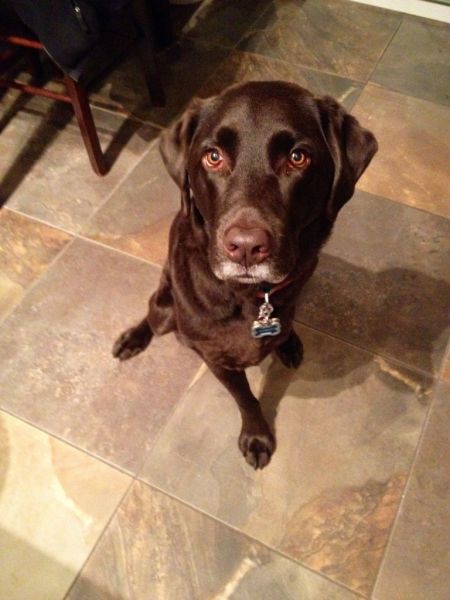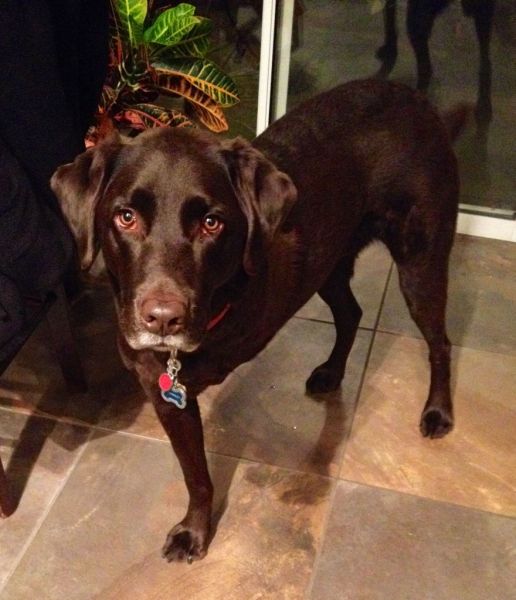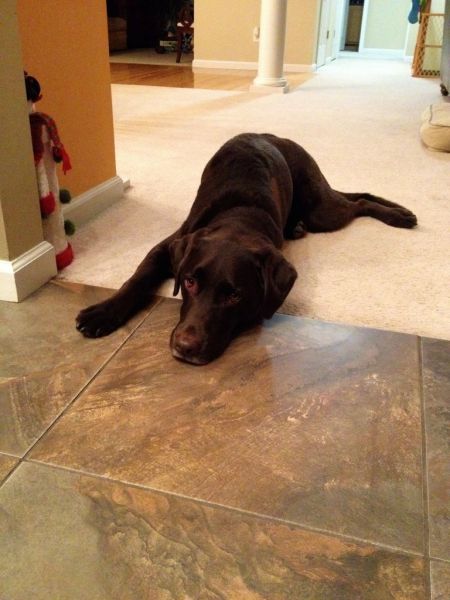 Thank you for all of your prayers, positive thoughts, hugs, and kisses.  It is greatly appreciated and we can't thank you enough for all of your support!
♥  Hugs from me and chocolate Labby kisses from Charley!  xoxo  ♥