Dec 15 2013


Charley's Mom
Charley update…chemo #2 is this Wednesday 12/18
Tripawds is a user-supported community. Thank you for your support!
Sorry it's been awhile since I posted an update.  Charley is finally back to his happy Labby self!  Yippee!!!
The doxorubicin hit him a bit hard (he had no side effects at all from his 5 rounds of carboplatin).  We gave him Cerenia, but there were still days when the saliva would just drip out if his mouth….he was lethargic and you could tell he didn't feel well and couldn't get comfortable….although in typical Labby fashion he never lost his appetite.  He wanted to lay outside in the cold on the deck by himself and did so for hours which is not like him at all (he typically does not stay outside at all unless we are with him).
Charley had his blood work done last Saturday 12/8 (day 10 for nadir) and his neutrophils and platelets were low (still in the range to not have to delay his next chemo), but his onco isn't worried about the numbers because they should rebound fine.
Charley is scheduled for chemo #2 (Lomustine) this Wednesday 12/18….and then he only has 4 more to go!
Thank you for all of your prayers, positive thoughts, hugs, and kisses.  It is greatly appreciated and we can't thank you enough for all of your support!
♥  Hugs from me and chocolate Labby kisses from Charley!  xoxo  ♥
I love this picture….especially his soulful eyes!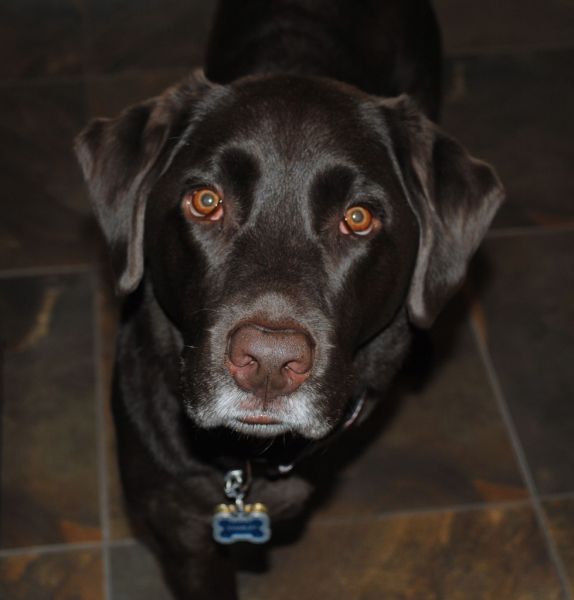 Handsome Charley!  This is the photo he is submitting with his Harvard application!  He looks so ivy league!