Jan 28 2015


Charley's Mom
Happy 4 Year, 3 Month Ampuversary to my Bone Cancer Warrior Charley!
Tripawds is a user-supported community. Thank you for your support!
Happy Happy Happy 4 Year, 3 Month Ampuversary Charley!!!  I can't believe it's been 15 months since his metastatic OS tumor was removed!  Charley's been doing great and he goes back the oncologist on Thursday, 2/12/15, for another met check.  Of course we'll be keeping our fingers and 3-paws crossed for only good news.  Of course positive thoughts and prayers are always appreciated and welcome!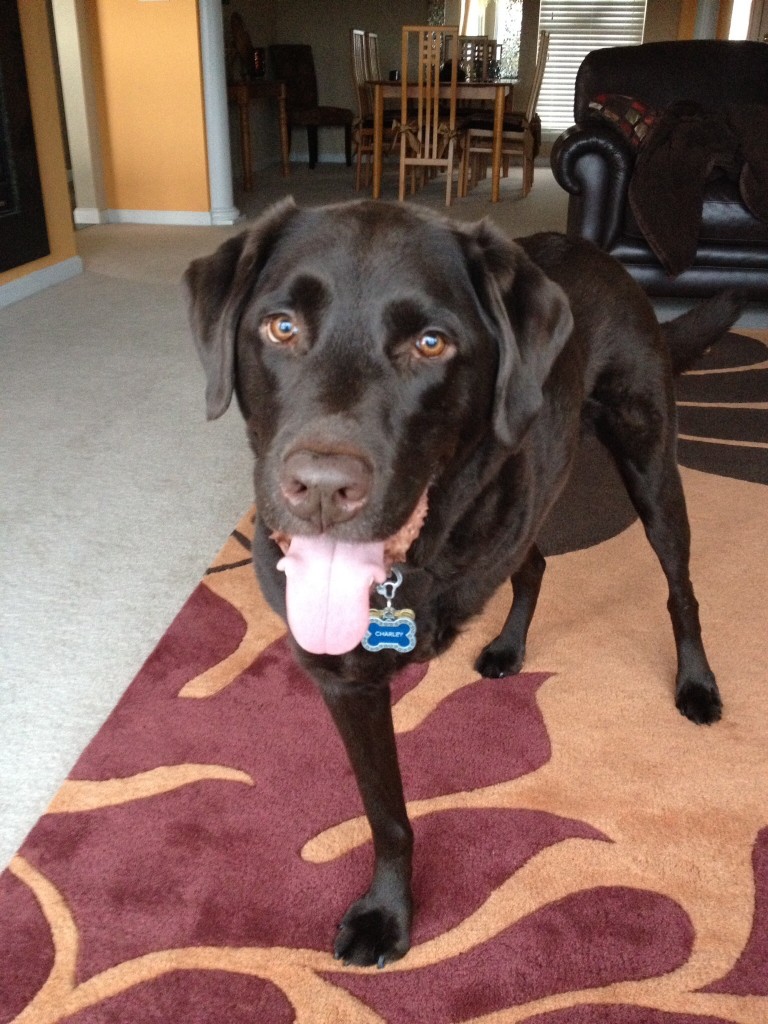 I wanted to share the newest addition in our home….no it's not a baby Labby brother for Charley, but hopefully someday…it's a canvas gallery of some of our family pictures that we had taken in Cape San Blas, FL this past Florida.  Every day when I see these pictures I can't help but smile!  Cape San Blas is in the Florida panhandle and the sugar white sand and blue green water is amazing!  The best part about the Cape is the beaches are completely dog friendly!
There has been so much sadness and way too many losses lately, that I wanted to try to make a difference. ♥   This past Sunday night I started a campaign on Teespring called CANINE CANCER WARRIORS to raise money for Bone Cancer Dogs, Inc. to help fund ongoing clinical trials and research.
Bone Cancer Dogs, Inc. has already funded 3 clinical trials.  100% of the profits from this campaign will be donated.  Since this campaign has been Donation Verified, all of the profits will go directly to Bone Cancer Dogs, Inc.  75% of all donations to Bone Cancer Dogs, Inc. go directly toward funding of specific research directed toward canine osteosarcoma.  The remaining 25% are used to support the organizations's insurance, federal and state requirements, and the website.
Human cancer trials are first done on dogs because dog's get the same cancers as we do and a dog's system responds to cancer the same way ours does!  Many of the cancer trials on dogs go on to become standards of care in humans, so more trials are needed.  Osteosarcoma (bone cancer), which Charley has, mostly occurs in children and young adults and the prognosis is poor.  Unfortunately treatment options and success rates haven't changed much in 20 years, but with more clinical trials hopefully this will change in our lifetime!
The statistics are startling!  1 in 3 dogs will develop cancer in their lifetime and 50% of dogs over the age of 10 will die from cancer.  Believe me, I didn't know either and I was ignorantly living in bliss until Charley was diagnosed at age 2-1/2 with bone cancer.
Here's a few pictures of the front and back of the shirt I designed.  The shirt is available in a short sleeve tee, long sleeve tee, hoodie and a women's fitted tee and they come in a variety of colors.
In honor of Charley and all of the Canine Cancer Warriors who are currently fighting the biggest battle of their life and in memory of those who have earned their wings, please consider buying one of these super cool tees or hoodies! 100% of the profits will be donated to help fund canine cancer ongoing trials and research!
I know most of you are dog lovers.  Many of you have had a personal experience with canine cancer or know someone close to you who has.  Dog lovers have lots of doggie lover friends who know other doggie lover friends.  Even if you don't want to buy a Canine Cancer Warrior Shirt, PLEASE SHARE !!! ♥  Together we can ALL make a difference!  ♥
Here's the link to share:  http://teespring.com/canine-cancer-warriors-100
Never give up hope!  My hope is that one day there is a cure for this dreaded disease….
Sending lots of positive thoughts and prayers to all of you and your furry babies!
Thank you for all of your prayers, positive thoughts, hugs, and kisses.  It is greatly appreciated and we can't thank you enough for all of your support!
♥  Hugs from me and chocolate Labby kisses from Charley!  xoxo  ♥